The Child & Adult Advocacy Studies (CAASt) training program was created to provide education professionals with the tools necessary to advocate for children and adults in need while learning to work in interprofessional settings to overcome barriers associated with rurality, funding, and lack of services. CAASt programming creates trauma-informed advocates who can use critical thinking skills to align services, improve system collaboration, and identify resources to meet the unique needs of the children and families being served.
Launched in response to the unique challenges imposed on the education setting during the pandemic, the CAASt program developed two unique trainings including the CAASt K-12 Training as well as the CAASt Vicarious Trauma Training for Educators.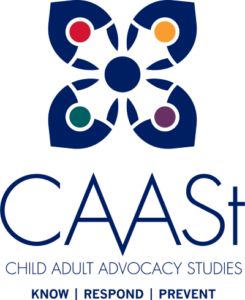 CAASt Training Opportunities:
CAASt K-12 Training: This 5-hour training provides school personnel with knowledge for working in school multidisciplinary teams and discussion on the perceived barriers to implementing trauma-informed approaches. Training participants will increase knowledge of mandatory reporting, youth suicide prevention, multidisciplinary approaches, and trauma-informed interventions.
CAASt Vicarious Trauma Training for Educators: This 2-hour training provides school personnel with information about vicarious trauma and tools to practice self-care. Training participants will: understand the risk of indirect exposure to trauma, discuss the ethical imperative of self-care, recognize vicarious traumatization in an educational setting, identify coping strategies that contribute to health and well-being, develop strategies to strengthen resilience, and discuss the elements of organizational care plan.