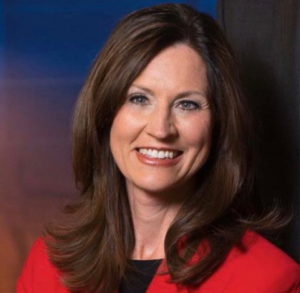 Senator Helene Duhamel is a third generation broadcaster and a fifth generation South Dakotan. She is named after broadcast pioneer and legend Helen S. Duhamel who brought television to western South Dakota, the panhandle of Nebraska and later into northeastern Wyoming.
Duhamel joined Duhamel Broadcasting in 1981 as a summer intern in the KOTA-TV newsroom in Rapid City, South Dakota. In 1984, she graduated with a degree in Mass Communications from Stanford University. Over her three and a half decade career, Helene was a reporter, assignment editor, producer, anchor, and even did the main weather one summer until a meteorologist was hired. She served as News Director of KDUH-TV in Scottsbluff and KOTA-TV in Rapid City.
Duhamel joined the Pennington County Sheriff's Office as the Public Information Officer. In December 2019, Helene was appointed to the South Dakota Senate in Rapid City, District 32. She was re-elected in November 2020 and elected to a position of leadership as a Majority Whip in the South Dakota Senate.
Helene and husband Steve j have three children—Erin, Daniel and Shannon.